Fire Service Plus, Inc.
473 Dividend Dr
Peachtree City, GA 30269
Phone: 770-460-7793
24/7 Emergency Hotline: 770-460-7793 Email: info@fireade.com
Hazards Caused By Fire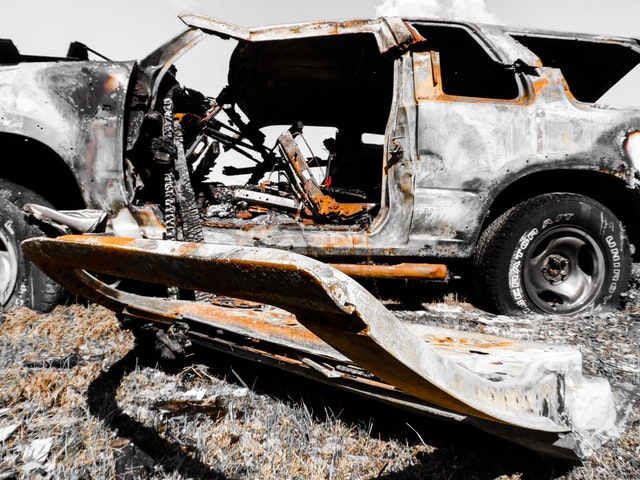 One of the major hazards associated with firefighting operations is the toxic environment created by combusting materials. The four major hazards are:
[14]
Smoke, which is becoming increasingly dangerous due to the increased variety and amount of synthetic household materials.
Oxygen deficient atmosphere, 21% O2 is normal, 19.5% O2 is considered oxygen deficient.
Elevated temperatures
Toxic atmospheres
To deal with such hazards, firefighters carry a self-contained breathing apparatus (SCBA; an open-circuit positive pressure system) to prevent smoke inhalation. These are not oxygen tanks (oxygen as a powerful fire accelerant would represent a grave risk when combined with virtually anything combustible in the presence of fire) but use compressed air in a similar manner to SCUBA diving gear. A firefighter's SCBA usually hold 30 to 45 minutes of air, depending on the size of the tank and the rate of consumption during strenuous activities. While this gear helps to eliminate the risks, firefighters are still exposed to smoke, toxic dust and fumes that have contributed to firefighters being 14% more likely to develop cancer. Obvious risks associated with the immense heat generated by a fire, even without direct contact with the flames (direct flame impingement), such as conductive heat and radiant heat, can cause serious burns even from great distances. There are a number of comparably serious heat-related risks, such as burns from hot gases (e.g., air), steam, and hot and/or toxic smoke. Accordingly, firefighters are equipped with personal protective equipment (PPE) that includes fire-resistant clothing such as Nomex or polybenzimidazole fiber (PBI) and helmets that limit the transmission of heat towards the body. No PPE, however, can completely protect the user from the effects of all possible fire conditions.
[15]
Heat can cause flammable liquid contained in tanks to explode violently, producing what is called a BLEVE (boiling liquid expanding vapor explosion).
[16]
 Some chemical products such as ammonium nitrate fertilizers can also explode, potentially causing physical trauma from blast or shrapnel injuries. Sufficient heat causes human flesh to burn as fuel, or the water within to boil, leading to potentially severe medical problems. Depending on the heat of the fire, burns can occur in a fraction of a second. Additional risks of fire are the obscuring of vision due to smoke, potentially causing a fall or disorientation; becoming trapped in a fire; and structural collapse.
[17]
"Three hours of fighting a fire stiffens arteries and impairs cardiac function in firefighters" according to a new study by Bo Fernhall, a professor in the department of kinesiology and community health in the College of Applied Health Sciences, and Gavin Horn, director of research at the Illinois Fire Service Institute. The conditions (observed in healthy male firefighters) are "also apparent found in weightlifters and endurance athletes…"
-From Wikipedia, the free encyclopedia
Check out our products!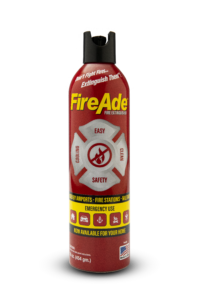 FireAde® 16oz
FireAde® is a 1:B rated personal fire extinguisher designed for easy application and extinguishment of fire outdoors and around the house using our signature FireAde® firefighting foam. No mess, non-corrosive, water-based formula leaves no residue and wipes up easily. Effective on Class A and Class B fires (97% of all fires).