Fire Service Plus, Inc.
473 Dividend Dr
Peachtree City, GA 30269
Phone: 770-460-7793
24/7 Emergency Hotline: 770-460-7793 Email: info@fireade.com
Suffocating a Fire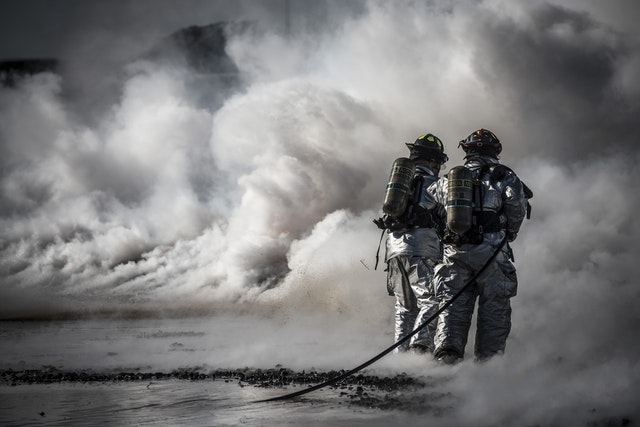 In some cases, the use of water is undesirable. This is because some chemical products react with water to produce poisonous gases, or they may even burn when they come into contact with water (e.g., sodium). Another problem is that some products float on water, such as hydrocarbons (gasoline, oil, and alcohol, etc.); a burning layer can then be spread by the fire. If a pressurized fuel tank is endangered by fire it is necessary to avoid heat shocks that may damage the tank if it is sprayed with cooling water; the resulting decompression might produce a BLEVE (boiling liquid expanding vapor explosion). Electrical fires cannot be extinguished with water since the water could act as a conductor. In such cases, it is necessary to asphyxiate the fire. This can be done in a variety of ways. Chemical products which react with the fuel can be used to stop the combustion. A layer of water-based fire retardant foam can be applied by the fire hose in order to separate the oxygen in the air from the fuel. carbon dioxide, halon, or sodium bicarbonate can be used. In the case of very small fires and in the absence of other extinguishing agents, covering the flame with a fire blanket can eliminate oxygen flow to the fire. A simple and usually effective way to put out a fire in a stove-top pan is to put a lid on the pan and leave it there.
From Wikipedia, the free encyclopedia
Check out our products!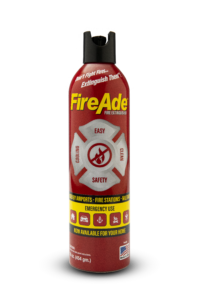 FireAde® 16oz
FireAde® is a 1:B rated personal fire extinguisher designed for easy application and extinguishment of fire outdoors and around the house using our signature FireAde® firefighting foam. No mess, non-corrosive, water-based formula leaves no residue and wipes up easily. Effective on Class A and Class B fires (97% of all fires).